26
May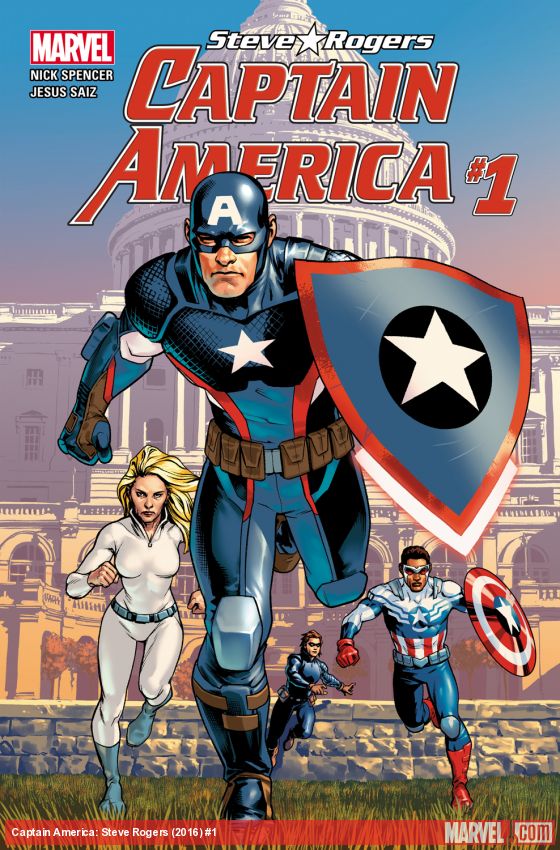 For those not in the know, in the current arc of the new Steve Rogers: Captain America comic (which hit comic shops yesterday), it's been shockingly revealed that …Cap's been a HYDRA Agent all along!.
Thanks to a full-court press by Marvel Executive Editor/Senior VP of Publishing Tom Brevoort, a nice chunk of the mainstream media latched on to this "revelation" as some amazing earth-shattering status-quo-breaking event, and has people on social media crapping themselves and ranting and raving about it everywhere.
Just like Marvel hoped they would.
As a fan, I understand that people get attached to these characters, especially recently, given the great performance Chris Evans has given as Steve Rogers for a bunch of big movies now. Captain America, today, just as he was back when Jack Kirby and Joe Simon thought him up back in the Timely days, is a symbol a lot of people, even non-comics fans, respond to, and often attach their own ideals to.
I also understand that comics is a business, and that Marvel's modus operandi since Stan and Jack started the bullpen is to hype the hell out of things, promise that things are NEVER GOING TO BE THE SAME, and aren't above a little misdirection (or occasionally flat-out making things up) to get the attention of the reader.
This is the first issue of a new story arc, which will likely run a solid six to twelve issues, before having the twist revealed and will settle out as being not all that different than they way they were before. Comics run on the illusion of change; it's all part of the relationship fans and creators have.
I see a lot of this in the marketing here. Writer Nick Spencer's definitely got an angle; this quote below from the EW piece that broke all this nonsense yesterday is right out of the Stan Lee playbook:
Issue 2 will lay a lot of our cards on the table in terms of what the new status quo is, but the one thing we can say unequivocally is: This is not a clone, not an imposter, not mind control, not someone else acting through Steve. This really is Steve Rogers, Captain America himself.
…a comics guy brings out "unequivocally" and lists a bunch of conditions, get out your shovel, because somebody's getting snowed. This list of conditions is broad, but also oddly specific; there's a lot of room for all kinds of other technicalities, which is what has always happened.
Especially in a comics universe that has, in the past year, been destroyed and rebuilt in a new image thanks to the "Secret Wars" event, for which the new "status quo" is still being determined (though it won't be all that different in the end, except Miles Morales gets to be Spider-Man as well), and has, in the last ten years, has had the Captain America mantle held by three different people (there are currently two Caps running around), has had Steve Rogers killed and resurrected, and for the last couple of years, Steve Rogers has been a depowered old man who recently got his Super-Soldier powers and his youth back thanks to a Cosmic Cube, which has, traditionally, been the biggest macguffin in a sea of macguffins the Marvel Universe has created.
In my mind, it's also not a coincidence that this happened when it did, mid-way through the first week since release that the Captain America: Civil War blockbuster film hasn't topped the box office, and on the same day when DC comics rolls out it's latest universe-shattering event, Rebirth, which changes the status quo over there again, ahead of the usual 7-10 year schedule they've maintained since Crisis on Infinite Earths.
Can the average non-comic fan person in America tell you what the #1 movie in America is this week? Probably not. Can they tell you what's going on over at Marvel's Distinguished Competition? Nope. But they sure as hell know that Captain America is, for the moment, a life-long HYDRA agent. And they have a strong, uninformed opinion on it.
Marvel wins the cycle. Boom.
And Marvel and parent company Disney don't really care that much about individual comic book sales; they haven't for years, really. The comics haven't been the profit leaders for decades. Since the 90s, it's been licensing the IP for movies, tv, and merchandise. A HUGE comic in today's market sells *maybe* 100,000 copies. That pales in comparison to the revenue the Marvel movies and licensed merchandise bring in.
Something like this gets the IP on the minds of people, who might, as a result, go see Civil War again, buy a t-shirt, or go into a comic shop out of curiousity, and if not buy the offending issue, might buy one of the high-profit margin reprint omnibus editions of "classic" Cap stories. Just like when they announced that Thor was now a girl, or that Doctor Octopus took over Spider-Man's body, or back in the 70s, when Cap found out that Richard Nixon was leader of the Secret Empire, and gave up the shield in disgust and when on a road trip across america to find himself as Nomad, Man Without A Country. All those stories ended (or are in the process of ending) with the status quo going back to the way it was, and usually resulting in a pretty cool story when all was said and done.
Don't worry, ginned up fans of Captain America who have your red-white-and-blue panties in a twist about Marvel betraying their beloved character; it'll all work out. Listen to the Washington Post, they understand.
Cap didn't stay a werewolf, did he?